With a focus on the ever growing demands of our customers, we are supplying a wide assortment of Steel Cord Conveyor Belt. It is manufactured by our professionals by using best grade material like elevated quality stainless steel, under the administration of our quality controllers and experienced engineers promising quality Belts. This belt is made using advanced techniques and it is evenly arranged and has the same tension, so the belt is well balanced in running and difficult to run away.
Our manufactured assortment is well matched with international quality standards and finds application in various industries such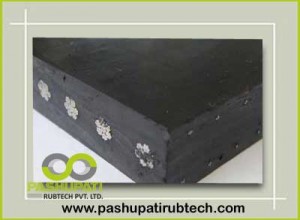 as coal, ore and port, metallurgical, power and chemical industries and it is suitable for long distance and heavy load transportation. This belt is customized available at our production unit an unbreakable with core rubber and galvanized steel string with a better-quality adhesive property. Along with this, it is made up of left and right twisting wire that is approved consistently and longitude in the belt.
Pashupati Rub Tech is a client focused company and manufactures Industrial Conveyor Belt and many types of Conveyor Belts as per their customers given specifications and they can get this huge spectrum of conveyor belts at very competitive prices. The offered conveyor belt provides optimized high tensile yet flexible reinforcement. Steel Cord Conveyor Belt that is produced by our company is tested on various parameters in order to assure best quality range to our customers.
Steel Cord Conveyor Belt provided by us are widely appreciated among our clients due to their most significant features such as
High Durability: Our manufactured range is appropriate for large span, long distance transportation of materials.
Low elongation in use: Our offered conveyor belt only need a very short take up stroke distance.
Superior Grip: This steel cord conveyor belt having superior grip due to the excellent dispersion of rubber between the individual cord filaments.
Good trough ability: As the belts body has no transverse reinforcement, it is easy to form a deep trough, so the belts can load more materials and prevent the materials from avoidance.
Even tension of steel cords: Out of our advance techniques in manufacturing, the steel cords are evenly arranged and carry equal tension during the manufacturing process.