Since our establishment, Pashupati has grown by leaps and bounds and today is acknowledged as a reputed Heat Resistant Conveyor Belt Manufacturer. This conveyor belt is specially design and manufactured for heat resistance applications, where the temperature of transmitted materials is more than 60°C. It is also resistant to oils and minerals. Offered conveyor belting solutions deliver best possible performance over the long run and also help in maintaining flexibility even though punishing conditions and loads. Further, the less cracking and hardening also helps in translating into longer service life, condensed substitution expenses as well as downtime.
To make sure the durability and quality, we use the optimum quality heat challenging rubber in the manufacturing process of this conveyor belt. Developing method and process of this conveyor belt is supervised at each pace to make certain the finest quality and finished product is prepared. Materials that are used in this conveyor belt are procured from the dependable dealers from the industrial market. Through heat resistant rubber compound is used in the making process of this conveyor belt is perfect to protect themselves from cracking and hardening by heat.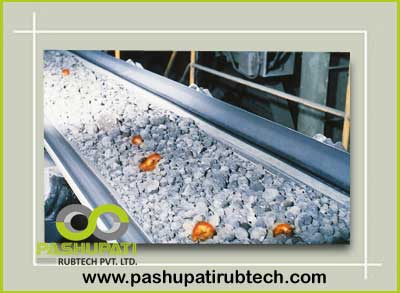 Offered range is highly resistant to heat and is built to transport the materials that are extremely hot in nature. Our well experienced engineers also used special heat-treated and dipped fabric for reducing carcass shrinkage by heat ageing. This belt is also used for transporting cement, clinker, cokes, sintered ores, soda ash, chemicals, fertilizer, hot pellet etc. It is highly appreciated by our clients due to its heat resistance feature and also available at our production division in various sizes and designs. These are dimensionally accurate as per international standards.
We bring to you our first-class range of Heat Resistant Conveyor Belt meant for transporting loads at very high temperature. Further, manufactured array of this conveyor belt is well acknowledged by our esteemed consumers for their terrific attributes that are pointed out here: high tensile strength, corrosion resistance, perfect finish, low protraction, longer functional life, wear & tear resistance and robust construction. Due to these features, our professionals allow them to be applied in various industries including sugar, chemical, food, and pharmaceuticals.