With a focus on the ever growing demands of our respected clients, we are supplying a wide assortment of Chevron Conveyor Belts to them at their pocket friendly prices and also customized as per their specifications. It is the perfect variety of conveyor belting system to meet their requirements when higher angles of inclination are essential. Their advantages are long working life and flexibility due to standardized chevron profiles which are vulcanized together with a base belt.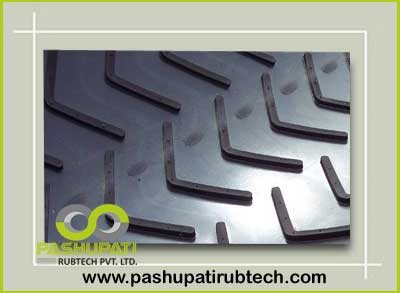 Chevron Conveyor Belts are specifically designed for handling all effective material in the applications where the angle of incline is higher for the material to be transmitted and the objects tends to slide on a conventional conveyor belt. Also this belt generally finds their use for carrying heavy material like bagged materials, steel pellets, fine coal & grains, wood chips and heavy duty scrap metal from immensity solids to unit loads.
We are a well outstanding company involved in providing world class Chevron Conveyor Belt, which meets the meticulous demand of our valuable customer. The offered conveyor belt is highly praised by our customers for its durability, flexibility and remarkable quality. It is available at our production division in various sizes and shapes to meet the assorted requirements of the customers. We follow precise quality parameters in the manufacturing process of this belt to ensure the desired quality and robust performance.
We are offering a wide assortment of Chevron Belt. Our manufactured range of this belt is come in three dissimilar varieties. One is the U type, second is Y type and the other being V type Chevron Conveyor Belts. The special profiles of this belt make increased angles by which inclination is possible and packed and loose material can be convey very easily and successfully as compared with flat surface belts. The sidewall angle and pitch of this belt is designed for even travel over return idlers.